Mahishasur was a half human and half buffalo demon. He was the son of Mahishi(a lady buffalo) and Rambha( a demon). Due to the special powers of his boons and inheritance from his parentage, Mahishasur always created trouble in the world and other planets.
He had an ability to change the shape of his body . He performed severe penance to please Brahma, and also obtained a boon from him that he could not be killed by and male , whether he is God or human. 
Due to this power, it became nearly impossible for the devtas to defeat him.
At last Durga, a manifestation of Adi Shakti had to kill the demon and protect other Gods.
Battle of Mahishasur with Durga
Once , when Mahishasur tried to capture the Devtas and take over the rule of heaven, he was confronted by Indra. But the devtas were defeated in the battle.
So, all the Gods along with the Trinity of Brahma ,Vishnu and Mahesh, concentrated to create an invincible female energy. This energy when took the a female form , was named Durga. She was gifted weapons by Shiva and Vishnu,Kamandal by Brahma, and Saree and jwelleries by the Devtas.

With all the weapons,riding a lion, Durga challenged Mahishasur for the war. Both of them fought terribly in the battlefield. On the last day of the battle Devi attacked the demon with here trident and killed him.After nine days of constant battling Mahishasur, Devi emerged victorious . She was celebrated by the Gods of three worlds and was given the name 'Mahishasur Mardini'. This form of Durga is also called Katyayani.
To celebrate the victory of Maa Durga over Mahishasur , Hindus celebrate the festival of Navratri for nine auspicious days by offering prayers to the nine forms of Durga on each day. Each day is dedicated to a particular form of the Goddess.
Durga is celebrated as the protective energy , one that brings equilibrium and balance in the world. 
It is interesting that Lord Ram was also born on the ninth day of Navratri ( in the month of Chaitra).So, the ninth day of Navratri is also celebrated as the auspicious day of RamNavmi.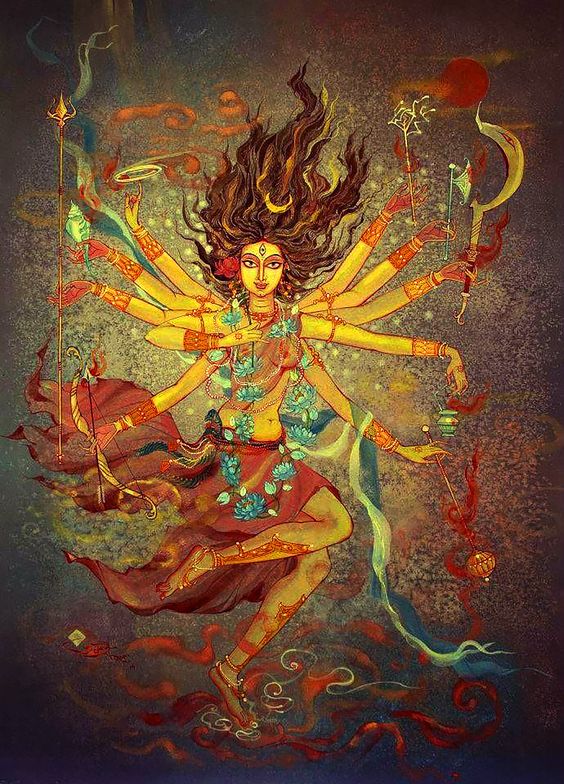 Each day of Navratri is dedicated to a special form of Devi Durga. Each form represent a particular aspect of human being . These nine forms are :
Shailaputri
Brahmacharini
Chandraghanta
Kushmanda
Skandamata
Katyayani
Kalaratri
Mahagauri
Siddhidatri