Radha vallabh temple
Radha Vallabh temple ,is a Hindu temple in the town of Vrindavan ,Uttar Pradesh in India. It is dedicated to the Hindu deity Radha and Krishna .Radha Vallabh is the central deity ,Krishna and Radha's presence is signified by a crown .The temple was constructed in the sixteenth century under the guidance of a Vaishnav saint Hith Harivansh Mahaprabhu.
The old Radha Vallabh temple ,also called the Hith Mandir was built in 1585 was built by Sundardas Bhatnagar .During those times the royal buildings were made using Red Sandstone . Sundardas worked under Abdul Rahim Khankhana,the chief head in Akbar's court .He thus got permission to use red Sandstone to build the temple .
It was predicted that the one who would build the temple would die within one year after the construction ,and the same happened with Sundardas.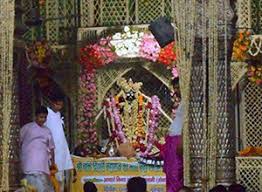 legends of deity
Once the divine couples Shyam and Shyama decided to come to earth . So Radhaji sent two of her Sakhis to earth and Krishna sent his Murli to earth. These were Lalitha ,Vishakha .They took human birth and were responsible to bring Radha Krishna in three different forms on earth through devotion.
Shri Haridas Ji was the incarnation of Lalitha Sakhi, who brought Bankey Bihari to Nidhivan.
Vishakha Sakhi was born as Shri Hariram Vyas .Kishor Van in Vrindavan is famous in his name.
Shri Hith Harivansh Mahaprabhu was the incarnation of the flute (Murli) of Krishna.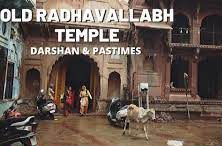 HOW RADHA VALLABH APPEARED ?
Atmadev was a Brahmin who was a selfless devotee of Lord Shiva. Once when pleased by his devotion Shiva appeared before him and asked him to ask something for himself. Atmadev had nothing to ask for as he wanted nothing. So he asked Shiva to give whatever he liked the most.
So Shiva gave him the idol of Radha Vallabh lal to the Brahmin .But Atmadev did not have enough resources for Seva of Radha Vallabh and also he had two daughters to marry.
Radha Vallabh asked Atmadev not to worry as he had already managed both the issues – his Seva and marriage of his two daughters.
Meanwhile Harivansh Mahaprabhu was leaving for Vrindavan from Devaban when he turned 32. On his way to Vrindavan, he was ordered by goddess Radha herself to marry the daughters of Atmadev and took the idol of Radha Vallabhji to Vrindavan with them. As ordered, Hith Harivansh Mahaprabhu married the daughters of Atmadev and Atmadev gifted the idol of Radhavallabh ji to his daughters and Harivansh Mahaprabhu on their marriage.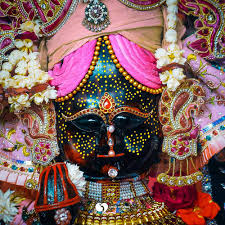 This is why Radha Vallabh Lal is also called 'Dahej Ka Thakur'.
During those times there were no buildings or temples in vrindavan . There were only trees and vines everywhere .During whole lifetime of Mahaprabhu Radha vallabh resided in these vines itself. There was no temple constructed for him . Related to this is a famous verse below:
तरनि तनूजा तट तमाल तरुवर बहु छाए। 
झुके कूल सो जल परसन हित मनहुँ सुहाए।
architecture
The old temple was the first Hindu temple built using red sandstone .The deity resided in the old temple for many years , now he resides in the newly constructed temple which was made in 1824 under the British government.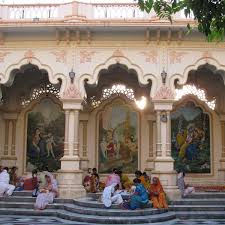 The saints have meditated on RadhaKrishna in an unified form ,not as separated entity .Radha represents the love which exists in the heart of Krishna ,within his entity . She is non different from Krishna. This is why their is only one deity at Bankey Bihari temple and Radha Vallabh temple.
The following verse describes this :
रूप बेली प्यारी बनी |
प्रियतम प्रेम तमाल  ||
दो मन मिल कर एक भये |
श्रीराधवल्लभ लाल ||
This is also the reason why there is a crown to represent the presence of radha .
Radha Vallabh is also called Shriji. The deity is taken care of just like a child . During winters he is covered with warm clothes ,he is offered with delicious sweets . The Mangal Arti that happens daily in the morning at the temple is attended by many devotees. It fills the heart and mind with joy and freshness.
Truly Vrindavan is a place which has lots of legends linked to it and which offers peace to mind and soul.
RADHE RADHE !