Importance of Vindhyachal
Vindhyachal is a city in Meerjapur district of Uttar Pradesh. It is located at a distance of 63km from the holy city of Varanasi.
Vindhyachal is a major pilgrimage famous for the temples of Devi Durga and her other forms. Meerjapur (mispronounced as Mirzapur) means the place which belong to the one who is born out of the sea (Lakshmi -born out of Samudra Manthan). The city is filled with ancient temples of Devi and other deities especially related to Shaktism.

The city is situated on the bank of Ganga , and the river can be seen from various temples in the city.
It is an important pilgrimage for the followers of Shakt traditions who perform their Saadhna here.
According to religious text of Hinduism Vindhyachal is the place where Durga resides in her complete form as Vindhyavasini. 

Vindhyachal is a Siddha Peeth ( not among 51 Shakti Peeth) , where Devi Sati lives with her full energy . She is also called Nanda and Yogmaya . She is the supreme energy in the universe who created every living form and is the preserver of all creatures.
Vindhyavasini is actually the sister of Vishnu or Krishna, so she is also called Vasudev Sahodhari , meaning sister of Vasudev.

The Vindhyavasini temple and Ashtabhuja Devi temple are the most visited sites in Vindhyachal. The place has a special connection with Devi and has many legends linked to its history which will be discussed further in this blog.
Vindhyachal is also present near to Varanasi which already attract a lot of devotees everyday . 
The temples of Devi are filled with devotees especially on the occasion of Durga Puja and the nine days of Navratri.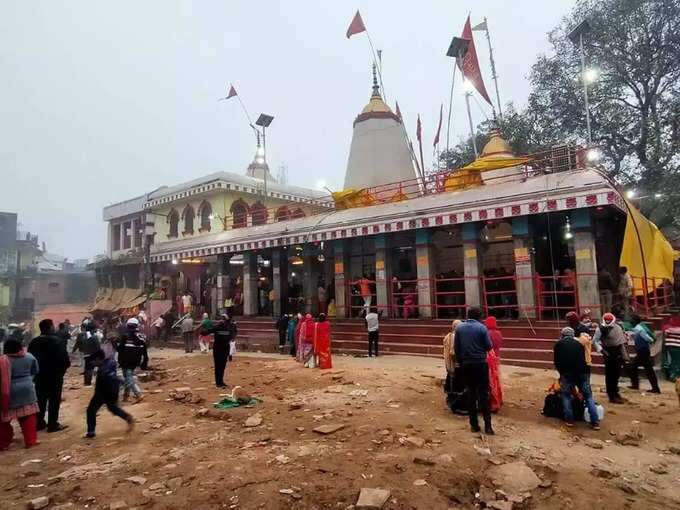 How to Reach Vindhyachal ?
Vindhyachal has a good connectivity with other cities because it is a major pilgrimage and frequently visited. Here are various routes to reach Vindhyachal :
1.By Road
The most convenient way to reach Vindhyachal by Road is through National Highway 2 (NH 2), popularly known as Delhi- Kolkata Road. On the National Highway 2 (NH 2) road, which is incidentally part of Asian Highway 1 (AH1), take turn Southward, either at Gopiganj or Aurai, both places between Allahabad and Varanasi.
Another way is to reach Varanasi by train or by air . Vindhyachal is just 63 km from Varanasi, and the temple is 7km more . So it takes around one and half hour to travel around 70 km from Varanasi.
2.By Train
Vindhyachal has a Railway station name 'Vindhyachal',(Indian Railway code-BDL). The station is present on a very busy route and not many trains have a stop here.
A better way is to stop at Mirzapur Station,(Indian Railway code-MZP), which is 9km from Vindhyvasini temple.
3.By Air
The nearest Airport is Lal Bahadur Shastri International Airport, at Babatpur, Varanasi, Uttar Pradesh, which is approximately 72 Kilometres from Ma Vindhyavasini Temple, Vindhyachal. Various trains runs from Varanasi Cantonment Station to Mirzapur , which takes around 1.5 hour to travel.

Places to Visit in Vindhyachal
The holy city of Vindhyachal has many ancient temples which are not so popular and many devotees miss visiting them. Therefore it is important to know about the important temples before reaching the place. Here  we are describing about various temples and how one should visit them .
The ardent devotees of devi, completes the Trikon Parikrma , which is the circumambulations of the three main temples in Vindhyachal present in a triangular path, which are listed below: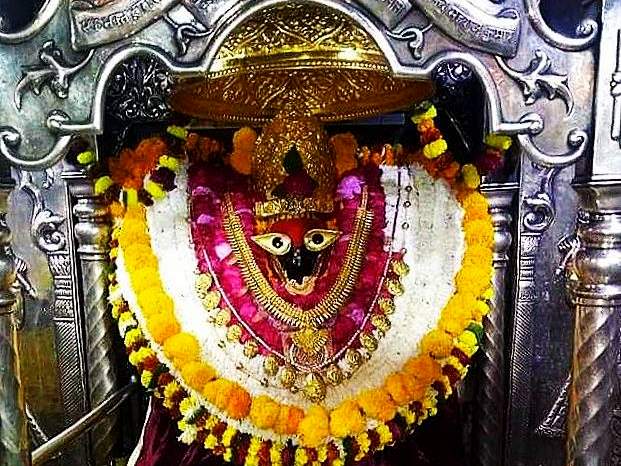 It is the most visited temple here and always has huge rush. The place has a good management and many shops for 'Prasadam'.This is a very very ancient temple and the Vigrah of Devi has existed since a very early time.
Vindhyvasini is the sister of Shree Krishna . She transformed into Yogmaya when Kamsa tried to kill her and from that time she lives in Vindhyachal as Vindhayvasini and Ashtabhuja.
There are long lines of devotees , but the crowd is well managed by the authorities.
The main deity of temple is beautifully covered with garlands and only her large eyes are visible . The shrine gives an appearance of very ancient period.
There are also three Vigraha in triangular order representing three manifestation of Devi.
There is a temple of Maha Saraswati and Mahakali on the other sides of  Vindhyavasini temple which also has three Shivlingas .
This temple is dedicated to Mahakali and is present 6km far from Vindhyavasini Mandir. A ancient Vigraha of Mahakali is present inside an ancient cave , and she is offered a garland of lemons here. This cave is called Kali. Gufa and is present before the Mahakali temple
Outside the cave there is a Shivlinga and a sacred tree , where people tie threads asking for the fulfillment of their wishes.
In the Kali Khoh mandir , there are two deities , Bhadrakali and Mahakali .This is the second temple in the Trikon Parikrama. Followers of Shaktism perform penance here . 
Next to this temple is a small temple dedicated to Devi Durga with a lion idol. From here there are steps which takes us to the last temple of Ashtabhuja Devi.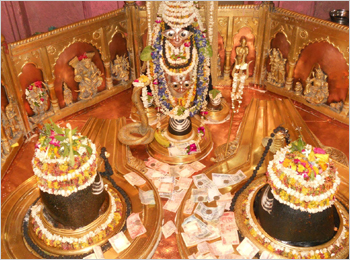 Ashtabhuja Devi is the daughter of Nanda and Yashoda , and thus sister of Krishna . One might think that she is Vindhyavasini herself. However there is a difference between the two Goddess , which will be discussed in a different article.
Ashtabhuja is an incarnation of MahaSaraswati . She is also called Yogmaya.She has eight arms as can be understood from the name Ashtabhuja.
The temple is in a valley situated between two folds of a mountain. One needs to climb the hill and then descend down through the steps.
Visiting all these three temples completes the Trikon Parikrma, and devotees are showered with the blessings of divine mother. In a nearby cave , there are steps ,which takes you to Sita Kund ,which was created by Lakshman to quench the thirst of Sita.
1.Naag Kund 
This place is of very ancient time as it is believed to be constructed by the Naga kings during the time of Mahabharata. The place is worshipped during the festival of Basant Panchmi or Naag Panchmi.
2.Gerua Talab and Motia Talab –
The pond is now not maintained properly , but is visited because of a Krishna temple ner Gerua Talab and Shiva temple near Motia Talab. The place is linked to some ancient stories.
3.Mahamundalini Temple-
It is present near Gerua Talab and dedicated to Mahakali.From the backside of the temple , there is a lovely glimpse of Ganga and the hills.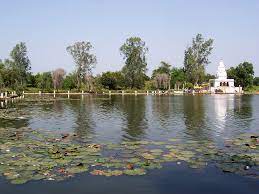 The city of Vindhyachal has a special importance when visited during the festival of Navratri. There are many devotees who offer their prayers and ask for the blessing of divine mother.