Author : Jaydeva Goswami
Language : Sanskrit
Text : GitaGovindam(Ashtapadam)
Raga : Pahadi
Tala : Kaherva
The song is attributed to Jayadeva , in his Ashtapadam, the collection of Sanskrit hymns in praise of Krishna from his book Gita Govinda.
Shri gopika viraha gitam is the song sung by gopis for Krishna when he was leaving vrindavan. The song describes the beauty of Krishna and the longings of Gopis in his absence.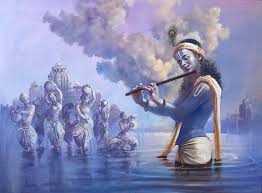 Lyrics in English :
Ehi Murare Kunja bihari 
Ehi Pranat Jana Bandhu |
Hey Madhav Madhu Madan Varenya
Keshava Karuna Sindhu ||

Meaning : O Murari! O the One Who roams in gardens! O Friend of hapless people! O Madhav! O slayer of Madhu! O desirable one! O Keshav! O Ocean of mercy! Come close to us (says the Gopika).


Rasanikunje,Gunjati niyatam
Bhramaradhtam Kilkaanta|
Ehi Nibhrat pathpanthah||
Twamiha yache darshandaanam 
hey madhusudan shaantah !

Meaning :Hundreds of shiny bumble-bees are continuously buzzing in the gardens of (our) Raas. O non-dual path follower! Come close. We all are craving for the sight of You, O Madhusudan, the quiet one!


Shoonya kusumasanamiha kunje shoonyam 
kelikadamb adeenah kekikadamba |
Mridukalnaadam kil savishaadam 
roditi yamuna swayambhah||

Meaning: The throne of flowers made in the garden is empty [because You are not here]
the sport at the side of Kadamb tree is missing too. The river Yamuna is consistently flowing with the rhythm of her waves imitating a cry; even she is missing Your presence.

Navneerajdhar Shyamalsundar 
chandra kusumruchivesha
gopigan hridayesha |
Govardhandhar Vrindavanchar
Vamsidhar Paramesha ||

Meaning:O the One who holds a new lotus! O Shyam! O Beautiful! O Moon faced and flower bodied! O the ruler of our (Gopis') hearts  O the One who held Govardhan Mountain! O cow rearer of Vrindavan! O Flute holder.. O Supreme God


Radharanjan Kamsanishudan 
Pranatishtavak Charane
Nikhilnirashraye sharane ||
Ehi Janardan Pitambardhar
Kunje Mantharpavane||

Meaning: O enticer of Radha! O Slayer of Kansa (a mighty demon)! O Complete one! I am bowing into Your feet which is the shelter of the unsheltered! O Janardan! O the One, who is adorned with yellow robes! Come close to me in this garden.

Lyrics in Hindi With Meaning
एहि मुरारे कुञ्जविहारे 
एहि प्रणत जनबन्धो  
हे माधव मधुमथन वरेण्य 
केशव करुणासिन्धो
रासनिकुञ्जे गुञ्जति नियतं 
भ्रमरशतं किल कान्त
एहि निभृतपथपान्थ ।
त्वामिह याचे दर्शनदानं 
हे मधुसूदन शान्त ॥ १॥

शून्यं कुसुमासनमिह कुञ्जे शून्यः 
केलिकदम्बः
अदीनः केकिकदम्बः ।
मृदुकलनादं किल सविषादं 
रोदिति यमुना स्वम्भः ॥ २॥

नवनीरजधर श्यामलसुन्दर 
चन्द्र कुसुम रुचिवेश
गोपीगण हृदयेश ।
गोवर्द्धनधर वृन्दावनचर
वंशीधर परमेश ॥ ३॥

राधारञ्जन कंसनिषूदन 
प्रणतिस्तावक चरणे
निखिलनिराश्रयशरणे ।
एहि जनार्दन पीताम्बरधर 
कुञ्जे मन्थरपवने ॥ ४॥

इति श्रीगोपिकाविरहगीतं समाप्तम् ।