LOCATION
Tunganath is one of the five PanchKedar and is one of the highest Shiva temples in the world in Rudraprayag district of Uttarakhand.The religious significance of Tunganath is related to Mahabharata's hero Pandavas. The literal meaning of Tunganath is ' The Lord of Peaks'.It is located at an altitude of 3470m ,just below the Chandrashila peak.It is said that when Lord Ram killed Ravana ,he performed penance for his salvation at Chandrashila.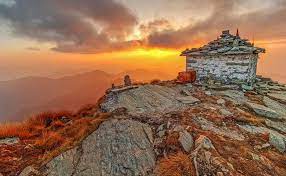 RELIGIOUS LINKS
The most popular folk legend is related to the Pandavas, the heroes of Mahabharata. When the war of Kurukshetra was finished ,they realised that they have committed a lot of sins by slaying their own relatives , brothers and teachers. Thus to cleanse the effect of their sins , they started the search for Lord Shiva . First they moved to Kashi, famous for the Kashi Vishwanath Temple .Shiva was insensitive to their prayers because of huge numbers of deaths in Kurukshetra war , and thus he assumed the form of a bull in the Garhwal region.
Pandavas reached the Garhwal region and Bhima ,saw there a bull grazing near Guptakashi,Bhima immediately recognised it as Shiva.
Bhima held the bull by his tail and hind legs .But the bull entered the ground and later appeared in different region with different body parts with the hump raising in Kedarnath, the arms appearing in Tunganath, the face showing up at Rudranath, the nabhi (navel) and stomach surfacing in Madhyamaheshwar and the hair appearing in Kalpeshwar. These are altogether known as Panch kedars.
.The architecture of Kedarnath , Tunganath and Madhyamaheswar temples are similar . The priest is a local Brahmin from the Makku village ,unlike the other temples of Panchkedars. The temple is closed during the winter seasons.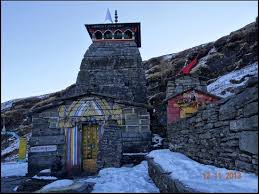 FACTS ABOUR TUNGANATH TEMPLE
It is belived to be 5000 years old .
It is build in the north Indian style and has a dozen shrines of other Gods surrounding the temple .
During summer season the peak is filled with lush green cover of pine deodar ,but during rainy seasons the place become dangerous due to landslides.
Tunganath mountain act as a ridge ,dividing the water of Mandakini river from Alaknanada.
Due to heavy snowfall the temple remain closed for almost six months in an an year.