KARTIKEYA or murugan
Lord Kartikeya is the elder son of Shiva and Parvati and elder brother of Lord Ganesha. He is popular by many names out of which Murugan is the most famous in the southern part of India.He is a symbol of union of polarities .He is a handsome warrior and described as a celibate yogi. He uses his creative martial abilities to lead an army against Taraka and other demons, and described as a philosopher-warrior. He is a uniter, championing the attributes of both Shaivism and Vaishnavism.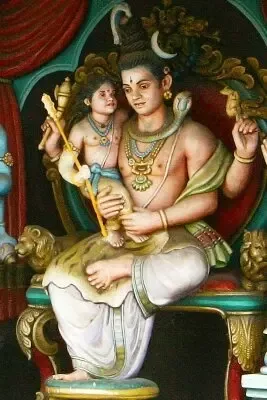 The birth of Kartikeya is itself an interesting story ,because he was not born directly from Parvati. Mata Parvati had been cursed that she could never bear a child by Rati,who was the wife of Kamadeva.
BIRTH OF KARTIKEYA
Everyone is familiar with the story when Sati ended her life in the fire when Daksha insulted Shiva in yajna .Shiva became furious and destroyed everything in the form of Virbhadra. All other Gods attended the yajna except Shiva . Therefore they had to face the troubles for thousands of years because of demons like Tarakasura and Surapadma.
The main purpose for the birth of Kartikeya was to destroy Tarakasura .
Finally after praying for thousands of years ,Lord Shiva had mercy on the devtas. From Lord Shiva's eyes came out six sparks. Since they were too hot to be borne by any other element in the creation, the task was given to Agni to carry them forward .Those sparks were so hot that even Agni lost his senses and could not bear them and therefore left them in a lake called Saravana. Therefore Karikeya is also called Sarvana.
After some time these six sparks transformed into six divine children with divine qualities .These children were taken care of by the six karthika sisters (which is a group of constellation) .Hence the name Kartika came .
When Shiva and Parvati arrived there , they were highly attracted by the charm of the six children . Parvati merged them into a single child but with six heads .
Later ,Karthikeya grew into a great fighter ,having learnt all martial arts and possessing all of the divine weapons . He finished the task of Killing Tarakasura very easily ,which was otherwise impossible by any other warrior.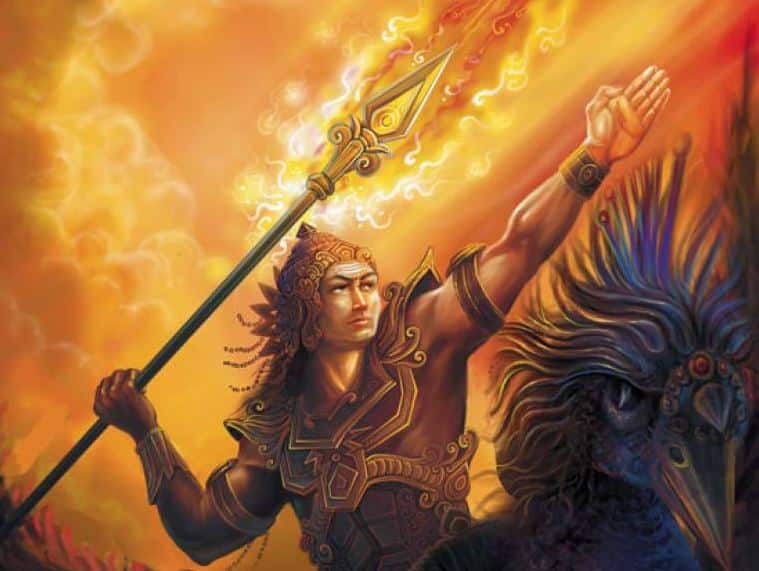 As an appreciation of his valour ,Indra gifted his daughter Devesena , to Karthikeya for marriage and this divine marriage was witnessed by all the devtas and Gods .
Being born from the supreme couple , Kartikeya possessed all qualities of his parents. In one of the description his apperance is described when he was fighting with demons to save the Gods :
When the gods were in that fearful predicament, the mighty Mahasena, burning with anger, and looking grand like the Sun advanced to their rescue. And that lordly being was clad in blazing red and decked with a wreath of red flowers. And cased in armor of gold he rode in a gold-colored chariot bright as the Sun and drawn by chestnut horses.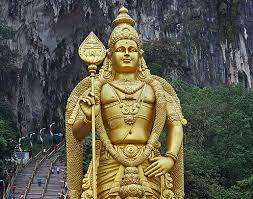 Lord Kartikeya is always merciful to his devotees and possess all great virtuous .He is respectful towards the Brahmins and he is always praised by Rishis and Gandharvas.