VAISHNO DEVI
Vaishno Devi is a manifestation of mother Goddess , Devi. She is called by many names by her devotees, for example,Vaishnavi, Mata Rani ,Ambe ,Trikuta , Jyotawali ,Pahadawali, Sherawali etc.
Vaishnavi is the combined energy of Parvati,Lakshmi and Saraswati. Vaishno is the largest Shaktipeeth of the 108 Shaktipeeth dedicated to Durga .It is believed that she contains the combined energies of Vishnu and lakshmi. She is the Mahadevi and is the mother of all creations in the universe. Some Hindus believe her to be the future bliss of Kalki ( tenth avatar of vishnu) and born as Satyabhama and will be born as Rama wife of Kalki.
VAISNO DEVI – LEGENDS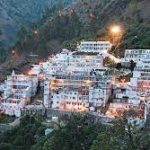 According to the popular beliefs , about nine hundred years ago Vaishno Devi appeared in the form of a young girl and commanded a Brahmin named Shridhar from the village Hansali (next to present day Katra) to hold a feast (bhandara) for local people near Bhumika stream. On this occasion a tantric named Bhairavnath was also invited . He asked for meat and liquor in the feast .
Vaishnavi refused him and said that the feast was meant for only Brahmins and only Satwik food would be offered . Seeing Vaishnavi , Bhairav was filled with lust and ran after her . To escape him she ran away stopping at various places on the trail up the Trikuta mountain.According to the legend, when Mata Vaishno Devi/Vaishnavi accompanied by Langoor-Veer/Monkey was heading to her abode in Trikuta Hills, he felt thirsty. Then the goddess shot an arrow in the ground, and a spring sprang up, which is today recognized as Ban Ganga.Other holy places are Charan Paduka (Holy footprints), Ardha Kunwari —the place where she is said to have remained for nine months in a cave, — and finally at Bhavan .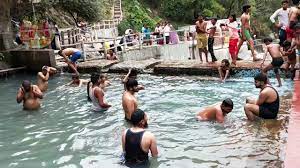 At last Devi took the form of Chamundi and beheaded Bhairav . His torso fell at the entrance of the cave and head flew away above the mountain . A temple is built at the location where his head fell .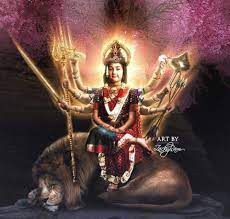 When Vaishnavi meditated in the cave for nine months , she called Lord Hanuman and asked him to guard the entrance and allow no one to enter inside . So , Bhairav could not enter in the cave for nine months.
After getting beheaded Bhairav repented . Devi said that in future a temple will be built for him and her darshan would be incomplete until the devotees visits his temple. After this , Devi manifested herself into three small rocks (pindikas) and stays there to the present day. Shridhar began doing puja to the pindikas at the cave, and his descendants continue to do so even today.
VAISHNO DEVI TEMPLE
Vaishno Devi temple is one of the most famous Hindu temple located in Katra at Trikuta mountains in Jammu and Kashmir. It is one of the most visited pilgrimage center in India . During , festival of Navaratri ,which is dedicated to her ,the temple is filled with devotees with the count reaching even to 1 crore visitors. After having a darshan of Ardha Kunwari, the pilgrims go to the Bhairav Nath temple. Pilgrims have a darshan of Bhairavnath's head before going to Bhavan, Vaishno Devi's Temple. Pilgrims go inside the temple to have a darshan of the 3 pindikas (rocks) which represent Vaishno Devi.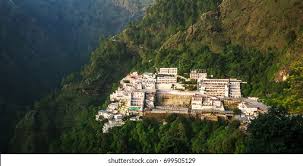 VAISHNO DEVI AND lord rama
Vaishnavi was created by the combines energy of Parvati,Lakshmi and Saraswati to spread righteousness on earth . When she was born she displayed a unique desire or urge for knowledge and soon realised that meditation was the best way to know the inner self . So she left for the forest to perform penance .
Meanwhile ,Lord Ram was in the period of his fourteen years exile. It happened that Rama met Vaishnavi recognised him as non other than supreme self ,Vishnu and asked him to merge her into herself .
But Rama denied becuase he knew that it was not the right time and also he had vowed to be married to only one woman as Rama.So Rama told her that he would return back after the exile and if she recognise him he would marry her.
As promised Rama returned after the exile in the form of an old man and Vaishnavi could not recognise him . Ram said that it was not the right time for her to attain the Lord .He promised her that he would reincarnate in a different Yuga and marry her .
Rama advised Vaishnavi to continue her penance in the Trikuta hills . Vaishnavi followed and performed penance for a very long time and from here the story of Bhairavnath is continued.
Altogether Maa Sherawali is the mother of all living creations in the world and she possess the powers of the three divine feminine. She is all graceful and loving towards her devotees .
Jai Mata Di !!!!