Chitrakoot
Chitrakoot is a city and a pilgrimage center in the Satna district of Madhya Pradesh,India. It is considered as the abode of Lord Ram, his spouse Sitaji and his brother Lakshman during their exile for about eleven years and a half. The city possess a serenic beauty and is capable of purifying human mind and heart and attracting tourists by its serene beauty .
Spiritual connection
From times immemorial, the Chitrakoot area has been a live centre of inspiration for cosmic consciousness. Thousands of renowned sages and saints have have performed their Sadhana here and attained higher spiritual status .According to scriptures Prayagraj is considered to be the greatest teerth but Chitrakoot is more elevated in spiritual importance .
Natural beauty of Chitrakoot attracted the minds of Tulsidas and Maharshi Valmiki . Atri, Anasuya, Dattatreya, Maharshi Markandeya, Sarbhang, Sutikshna and various other sages, seers, devotees and thinkers have lived in this area through all the ages; and  knowledgeable people say that many of such figures are still engaged in tapasya  here in various caves and little known places. The presence of such elevated souls in this region fills the city with spiritual aroma.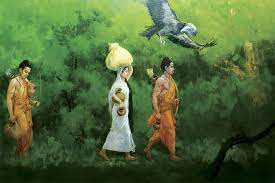 The place is said to have seen the incarnation of The Hindu Trinity, Lord Brahma , Lord Vishnu and Lord Maheshwara.
It is the place where Bharata persuaded Shree Rama and return to Ayodhya, and it is the place where Rama performed the last rites of his father. It is said that this event was witnessed by all Gods and Goddesses. When these Gods sensed the spiritual aura of Chitrakoot which was also magnified by the presence of Lord ,Ram ,they became reluctant to return back . When Vashista realised this , he did not say the departure mantra for Gods ,and hence it is belived that Chitrakoot is the permanent abode of all Gods.
 Valmiki speaks of Chitrakoot as an eminently holy place inhabited by the great sages, abounding in monkeys, bears and various other kinds of fauna and flora. Both the sages Bharadwaj and Valmiki speak of Chitrakoot in glowing terms and advise Ram to make it his abode during the period of his exile, as the place was capable of relieving a person of all his desires and of giving him a calm of mind that could make him achieve the highest of the goals in his life.
Tulsidas in one of his works , named Vinay Patrika , describes his personal bond with Chitrakoot. He spent quite some part of his life here worshipping Ram and craving his darshan. It was here that he had what he must have considered the crowning moment of his achievements–ie. the darshan of his beloved deity Lord Ram at the intercession of Hanumanji.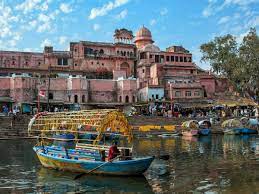 Places to visit in Chitrakoot
1.RAM GHAT – This is the place where Lord Rama used to take bath in the Mandakini river during his stay at chitrakoot.
2. BHARAT MILAP MANDIR -This is where Bharat met his brother Lord Rama to persuade him to return to Ayodhya. It is said that the meeting of four brother was so emotional that even the rocks and mountains of Chitrakut melted. There are evident footprints of Lord Ram and his brothers here that are worshipped.
3.HANUMAN DHARA – It is a spring located at the top of the hill, it is believed to be made by lord Rama for Hanuman.